Episode 101: Alison's Home
Alison and her family are living in their dream home, but this busy family hasn't had time to finish their combined living room / office / kitchen. Alison's husband and kids want to surprise her with a big makeover, so Roger and Chris sneak in while the family is out of town to bring color, style, and polish to the space. But what will Alison think when she gets home?
Watch The Episode
Photos
Discuss
Projects and Sources
Enjoy this episode? Share it with your friends using the links below.
Facebook
Twitter
Email

Behind The Scenes:
The Finished Space:

Painting Services & Paint
Lighting
Kristaller Chandelier


IKEA · $39.99 · Website

10in. Ceiling Medallion


The Home Depot · $9.97 · Website
Window Treatments
Pillows & Accessories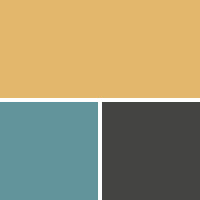 Establishing a color scheme
This makeover involved three critical rooms - living room, kitchen, and home office. We needed a color scheme that brought warmth and interest to the spaces but didn't divide them. Working from the floor up, we selected Sherwin-Williams Torchlight as a warm color that would pair with the floors and cabinetry. Iron Ore added drama to the prominent fireplace, the opposing kitchen wall, and the entryway. Finally, Cloudburst helped to balance the warmth of Torchlight and introduced a color that we knew Alison loved.
CertaPro Painters® tackled the multi-colored scheme and vaulted ceilings so we could focus on other design projects. Due to Alison's health issues, we used Harmony® Interior Acrylic Latex paint, a zero VOC formula that helps reduce common indoor odors to help rooms stay fresher, longer.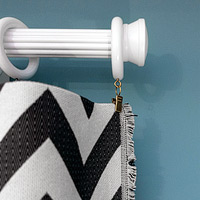 Creating drapes using ring clips and hem tape
If you don't have the sewing equipment or know-how, custom drapery can be expensive and can take weeks to have made. Instead, we used store-bought fabric, iron-on hem tape, and drapery rods and ring clips that we purchased at the hardware store. We cut the fabric panels to length - leaving the distinctive selvage edge on the sides - and folded over the tops and bottoms, sealing them with the hem tape. The drapery rods were an easy install, and the ring clips allow you to position the rings exactly as needed to create a dramatic look for your space.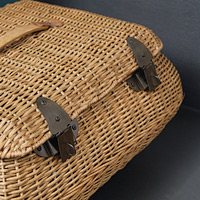 Disguising your cable box
Mounting your television on the wall can be great, but where do you put your other equipment? The family's cable box, modem, and associated wiring had all been sitting in plain sight on a shelf near the fireplace. We cleaned it up by placing this equipment in a wicker basket. We cut a few holes in the back of the basket to allow us to run wires in and out. For devices that have remote controls, you can use an inexpensive IR repeater to relay remote signals into the basket. We selected this particular basket because it had a hinged top, making access easy, and allows for natural ventilation - important for electronic devices that generate heat.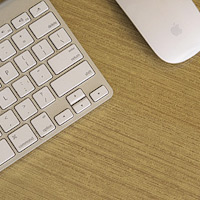 Sprucing up a worn desktop
Alison's office desk provided plenty of work surfaces and storage, but after a few years of use, the dark wood top had become scuffed and dented. Our solution was to have glass panels custom cut to sit on top of the desk. Between the desk and the glass, we added a textured vinyl fabric that brightened the desktop and provided a non-slip surface for the glass to rest upon.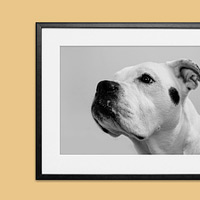 Take great photos of your pets
Molly and Chloe are both big parts of Alison's family. We wanted to include photos of the dogs in the house, and the eat-in kitchen was the perfect place for them. While most snapshots of family pets fall flat, Chris used several tricks to ensure that the photos were worthy of hanging on the wall. Check out his Five Tips For Taking Dog Pics Worth Wagging About for details.