Episode 102: Newlywed Townhome
Newlyweds Dara and Sal just bought their first home. They haven't even unpacked! After years of living and working in different cities, they finally found a house that lets them spend more time together. Coming from a small apartment, they need help to get their living room pulled together so they can start enjoying their new home.
Watch The Episode
Photos
Discuss
Projects and Sources
Enjoy this episode? Share it with your friends using the links below.
Facebook
Twitter
Email

Behind The Scenes:
The Finished Space:

Painting Services & Paint
Furniture
Lighting
Window Treatments
Pillows & Accessories
8x10 Gradated Stripe Cotton Dhurrie Rug in Feather Gray


West Elm · $180.00 · Website


Heavily-discounted floor sample.

Hand-Thrown Narrow Medium Vase in Cream


Roger & Chris · $98.00 · Website

Lacquered Rectangular Tray in Orange


West Elm · $32.00 · Website

Ombre Throw in Sangria


West Elm · $39.00 · Website

Organic Bead Print Ikat Pillow Shams


West Elm · $12.99 · Website

Chevron Crewel Throw Pillow


West Elm · $44.00 · Website

Assorted White Picture Frames


IKEA · Website

Mosaic Glass Candleholder


West Elm · $6.99 · Website

Miscellaneous Accessories on Clearance




Always dig through the end-of-season clearance sections of your favorite stores for amazing savings!
Share the Savings
Will the design tips and projects in today's episode save you money decorating your own home? If so, we hope you consider sharing some of those savings by making a donation to support severely injured Veterans.
Homes For Our Troops helps rebuild lives through the gift of a high quality, specially adapted home that provides freedom of movement and the ability to live independently. Consider making a donation today, or becoming involved in an HFOT project near you.
Learn More and Donate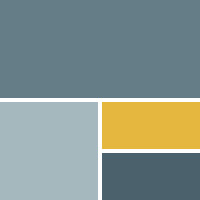 Establishing a color scheme
This makeover involved two rooms that seamlessly flowed into surrounding spaces. We needed a color scheme that added punch to the neutral white walls, but we had to work with the dining room color, the wood floors, and the kitchen cabinetry. We selected Sherwin-Williams Refuge for the living room and Languid Blue for the breakfast area and kitchen. These cool colors balanced the warm wood floors and taupe sectional sofa. The simple wood trim we applied allowed us keep the blue contained within the living room. Painting the inset boxes of the coffered ceiling brought the color up, but leaving the upper portion of the walls and the ceiling "beams" white prevented the room from feeling gloomy. Mixing in additional colors - yellows, oranges, pinky reds, and bluish greys - gave us an opportunity to create a sophisticated yet eclectic palette that we knew would appeal to both Dara and Sal.
CertaPro Painters® tackled the multi-colored scheme and coffered ceiling so we could focus on other design projects. We used SuperPaint® Interior Acrylic Latex, a paint and primer combination product that provides excellent coverage and durability.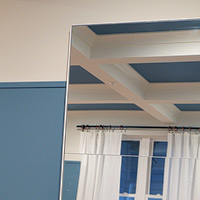 Building a large standing mirror
We built this mirror by first selecting three polished-edge mirrors at The Home Depot. We chose Erias 36x30 mirrors - they're typically applied directly to sheetrock for use in a bathroom. We built a sturdy backing frame out of a sheet of plywood and 2x4 boards. Because we didn't have a table saw, we had an employee cut the plywood sheet down to 90x36 for us. We used wood screws to fasten the 2x4s to the plywood. This adds strength and creates a thick edge for the mirror. Next, we used a nail gun to fasten wide wood trim pieces to the edge of the frame, leaving a bit of a lip on the front so that the mirrors would be slightly inset. (We used a miter box to cut the trim at a 45-degree angle for a more finished look, but this is optional.)
After painting the entire assembled frame white, we applied the mirrors using mirror mastic and a caulk gun. Note: We've had bad luck with the mastic sold in the mirror section of the hardware store. Instead, head over to the fastener aisle and grab Loctite's mirror glue. Give the glue ample time to dry before moving the finished product. This is a team project - the finished mirror will be heavy, awkward, but awesome!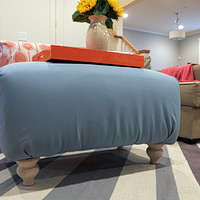 Building an ottoman
To create this ottoman, we started by building a simple wood box. We used 4x4 posts cut down to 10 inches as corner supports, and then affixed 2x10 boards to the sides and top. We think that 2x10s are a little bit of overkill - thinner boards would work as well and create a lighter piece - but we didn't want to worry about the boards splitting while assembling the piece, and thicker boards minimize that.
We used a foam mattress pad found at a discount store as padding (we wrapped it multiple times). Foam-safe spray adhesive helped keep the pieces from shifting. We wrapped the foam in multiple layers of batting, pulling it tight and affixing it to the inside bottom of the box using a heavy duty staple gun. We attached leg mounts to the frame near the outside corner of each 4x4. At your hardware store, look for Waddell top plates - you'll need four of them. We used unfinished tulip bun feet with pre-installed hanger bolts (installing hanger bolts is tricky without specialty equipment). The legs simply screw into the metal top plates to form sturdy, attractive furniture legs. According to Sal and Chris, at this stage the ottoman will look something like a sheep.
The final step is to wrap the ottoman in fabric. We chose a heavy duty duck canvas for the ottoman, since we knew it would be seeing a lot of use. Working with heavy material can be tricky - it isn't easy to fold or affix using staples - but patience and persistence will be rewarded with a unique piece that's quite durable.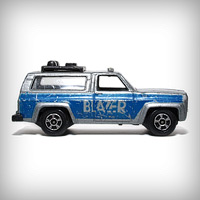 Photographing childhood toys
A budget-friendly alternative to purchasing one big, expensive piece of art is to create your own grid of photos. All it takes is a collection of interesting objects, a digital camera, and a little bit of time. For information on choosing the right kind of objects, removing distracting backgrounds, and cleaning up the images to make them shine, watch the project video.