Episode 103: Rec Room Refresh
Greg and Sherita have had accomplished careers in the armed forces, but now they've settled into a more permanent home in Houston, Texas. Their house is beautiful, but their rec room isn't everything it should be. We're here to create a fun space that everyone in the family loves.
Watch The Episode
Photos
Discuss
Projects and Sources
Enjoy this episode? Share it with your friends using the links below.
Facebook
Twitter
Email

The Finished Space:

Help Us Find Gage
After filming this episode, Greg and Sherita's dog Gage was stolen from their yard in the Ponderosa Forest area of Houston, TX (near FM 1960). If you have any information that could help them get Gage back, please reach out to Sherita Thomas.
Painting Services & Paint
Lighting
Assorted Table Lamps


Home Goods · Website
Window Treatments
Pillows & Accessories
Share the Savings
Will the design tips and projects in today's episode save you money decorating your own home? If so, we hope you consider sharing some of those savings by making a donation to support severely injured veterans.
Homes For Our Troops helps rebuild lives through the gift of a high quality, specially adapted home that provides freedom of movement and the ability to live independently. Consider making a donation today, or becoming involved in an HFOT project near you.
Learn More and Donate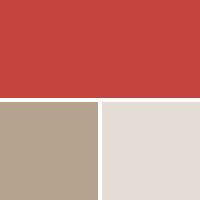 Establishing a color scheme
This makeover involved a generous space with lots of windows, high ceilings, and acres of beige. We chose a color scheme that played off of the warm tones we found in the couple's existing furnishings and accessories. Sherwin-Williams Ablaze was added to two opposing walls to create interest without overwhelming the room with red. The tray ceiling received a coat of Trusty Tan to call out this architectural detail.
CertaPro Painters® handled this multi-color scheme, carefully preparing surfaces for a durable finish and using a specially-tinted primer to ensure our red walls looked their absolute best. Inset windows and eased edges meant that finding the right place to start and stop color was tricky - we were fortunate to have CertaPro's help to get perfect paint lines.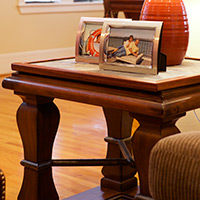 Sprucing up side tables
Greg and Sherita's side tables had good bones - and matched their other furniture - but the tops had become worn over the years. Rather than replacing the tables, we opted to freshen them up with new tops. We found slate floor tiles that were an almost-perfect fit, and used an all-purpose construction adhesive to affix them. We found pre-finished mahogany trim pieces in an L-shape for edging the tile. We cut the trim ends at a 45-degree angle using a miter saw box and affixed them using adhesive.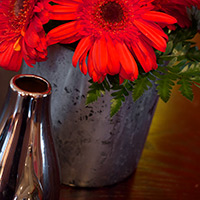 Creating mercury glass vases
These vases start off as ordinary clear glass pieces. You'll need a can of Krylon® Looking Glass® spray paint and a solution of vinegar and water in a spray bottle. Spray a single, thin coat of paint on the inside of your vase in quick bursts, keeping the can close to the surface. Let the coat dry for about a minute, and repeat the process, adding up to five coats of paint. As the paint dries, it will change from a dull finish to a reflective sheen.
To replicate the cracked look of mercury glass, lightly spray a solution of half vinegar, half water onto the paint and let it sit for a minute. Using a paper towel that has also been sprayed with the vinegar solution, gently and slowly rub the sprayed surface in small circles. The vinegar will break the paint off of the glass when you rub it, creating the cracked look that distinguishes mercury glass. Every vase will be unique, and you can control the amount of paint removed by varying the amount you rub off and how much pressure you use when rubbing.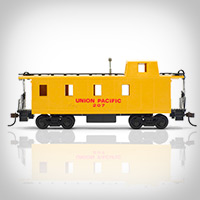 Photographing childhood toys
Greg loves trains, and Sherita had given jim a model train set as a gift. But she'd hoped it would stay just where we found it - in the back of a closet. Our compromise turned the train set into artwork for the walls. Here are some tips for taking great photos of small objects around your home:
1. Use macro mode. Your may have a mode specifically for photographing small objects. Enabling macro mode will allow your lens to focus on closer objects, so you can fill the frame with your subject.
2. Isolate the subject. For these photos, we wanted to remove any distractions in the background. We used large peel-and-stick Post-It Note paper from an office supply store to create a clean, white background. Be sure to drape the sheet so that it gently curves from wall to table, making the back edge invisible to the camera.
3. Keep things bright. Your camera will attempt to automatically set exposure. A big, white background will probably confuse its computer, resulting in dark images and greys instead of whites. This is called "underexposure." You can overcome this by setting the shutter speed manually (just play with settings until it looks right) or by using the exposure compensation function. Avoid using your flash, though, because it will result in nasty shadows around your small subject.
For more information and tips on creating fun photographs of small collections, check out our project video.