Episode 104: Bright British Bedroom
Fiancés Alli and Neil are music lovers in Raleigh, North Carolina. Their demanding jobs and family schedules keep them busy, so they haven't had a chance to finish their master bedroom. The room has furniture that the couple spent a year picking out. But it's missing the color and style that will create a relaxing retreat. And a relaxing retreat is what this busy couple needs most.
Watch The Episode
Photos
Discuss
Projects and Sources
Enjoy this episode? Share it with your friends using the links below.
Facebook
Twitter
Email

Behind The Scenes:
The Finished Space:

Painting Services & Paint
Furniture
Lighting
Threshold Simple & Extraordinary Lamp Shade - White Medium


Target · $16.99 · Website

Canary and Taupe New Peony Outdoor Fabric


Hancock Fabrics · $18.95/yd · Website


Applied to the shades as shown in the episode.
Window Treatments
Share the Savings
Will the design tips and projects in today's episode save you money decorating your own home? If so, we hope you consider sharing some of those savings by making a donation to support severely injured Veterans.
Homes For Our Troops helps rebuild lives through the gift of a high quality, specially adapted home that provides freedom of movement and the ability to live independently. Consider making a donation today, or becoming involved in an HFOT project near you.
Learn More and Donate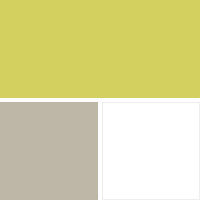 Establishing a color scheme
This makeover involved a vaulted room with windows on just one wall. To give interest to the room and highlight the vaulted ceiling, we used...an accent wall. While Alli had reservations about putting another accent wall into her house, it served a purpose in this bedroom. Frolic provided a much-needed injection of life, while Analytical Gray and crisp white trim kept the room feeling clean and uncluttered.
CertaPro Painters® handled this multi-color scheme, carefully preparing surfaces for a durable finish. We used Harmony® Interior Acrylic Latex paint, a zero VOC formula that helps reduce common indoor odors to help rooms stay fresher, longer.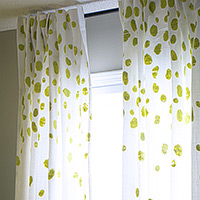 Falling leaf drapes
We created hand-painted drapes that give the room a relaxing, spa-like feel. While drapes with a similar custom look can cost hundreds, ours were very affordable. Starting with white panels from IKEA, we added colorful spots. Rather than having stencils cut for us, we purchased blank stencil sheets and cut our own shapes using an X-ACTO knife. We mixed acrylic craft paint with fabric medium to prevent stiffness. We used a refillable paint pouncer to apply the paint mixture, gradually reducing the number of spots towards the bottom of the drape.
Hat tip to The Hunted Interior for inspiring this project. Be sure to check out their instructions for detailed steps.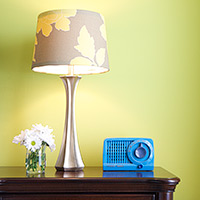 Fabric-wrapped lamp shades
We wanted distinctive lamp shades to dress up either side of the bed, but our budget didn't allow for anything luxurious. Instead, we started with inexpensive, plain shades and gave them character with an eye-catching pattern that played well with the color scheme. We started by making a template using craft paper, which made cutting the fabric much easier. High-temperature craft glue was used to hold the edges of the fabric, and spray adhesive was used to hold the fabric tight against the shade. We tucked the fabric edge inside the drape and...new designer lamp shades!
Hat tip to Cleverly Inspired for tips on this project. Be sure to check out their instructions for detailed steps.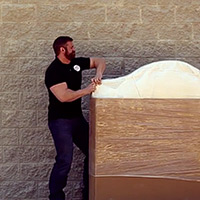 Building a masterful bed
"I never buy furniture as a set. People will think I got it on sale." We're not sure who first said that, but it's certainly true. To break up the forest of mahogany furniture in Alli and Neil's bedroom, we decided to ditch the headboard in favor of an upholstered bed. Chris designed this piece (part of our furniture collection at Roger + Chris) to provide a classic style with modern practicality. The fabric is a solution-dyed performance textile that is durable, fade proof, and stain proof - it can even be scrubbed down with a bleach solution.