Episode 105: Reflection Correction
Dave and Jaclyn purchased a house that previously belonged to a pro athlete. While the historic home boasts a great location and plenty of space for their young family, it also came with a master bedroom so embarrassing that Dave and Jaclyn didn't even want to show it to relatives. Now it's time for Roger, Chris, and their team from CertaPro Painters® to turn this into a bedroom they will want to show off.
Watch The Episode
Photos
Discuss
Projects and Sources
Enjoy this episode? Share it with your friends using the links below.
Facebook
Twitter
Email

Behind The Scenes:
The Finished Space:

Painting Services & Paint
Carpet
Floor Coverings International

®


Website · FCI helped us break up the black wall-to-wall carpet with a light tan area rug. They measured our space, cut the carpet to size, and bound it to create a finished edge.
Fabric
Diamond print fabric for window seat


Jo-Ann · $20.99 · Website

Embroidered floral fabric for pillows


Jo-Ann · $26.99 · Website

Snap-in curtain grommets


Jo-Ann · $12.99 · Website
Accessories
Bedside lamps


Target · $34.99/ea ·

Clearance

Window film

(for media cabinet)
Home Depot · $20.67 · Website
Share the Savings
Will the design tips and projects in today's episode save you money decorating your own home? If so, we hope you consider sharing some of those savings by making a donation to support severely injured Veterans.
Homes For Our Troops helps rebuild lives through the gift of a high quality, specially adapted home that provides freedom of movement and the ability to live independently. Consider making a donation today, or becoming involved in an HFOT project near you.
Learn More and Donate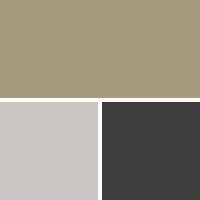 Establishing a color scheme
The blue walls and black carpet created a gloomy space, and the white ceiling actually made it feel lower than it was. Meanwhile, worn window trim and white paint on the fireplace and window seat wasn't working. The new wall color creates a cozier space for the family, and works well with the other rooms in the home. Using a subtle color on the ceiling adds interest and reduces the contrast with the walls.
CertaPro Painters® handled this multi-color scheme, carefully preparing surfaces for a durable finish. Removing the mirrors, patching the large holes from the removed speakers, and dealing with cracked and peeling trim on windows required attention to detail and expertise. We used Wisconsin-based Hallman Lindsay's paint products - available exclusively in Wisconsin.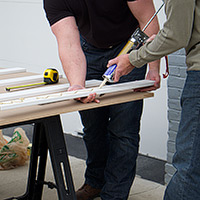 Building a headboard
Without the headboard of the...uhm...mirrors, the master bed felt a little unanchored. We built a modern headboard in no time. First, we had a sheet of MDF cut to height at the hardware store. We used MDF trim boards to add a Shaker-style grid. Pre-primed boards worked best to speed the painting process. The boards were glued in place with wood adhesive, clamped while drying, and painted.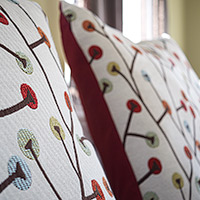 Pillows and drapes
We were spoiled to have Christie from the local CertaPro office helping out. We found fabric and recruited her to make pillows, drapes, and even a new cover for the window seat cushion. One of the best tricks: using snap-on grommets to create attractive drapes.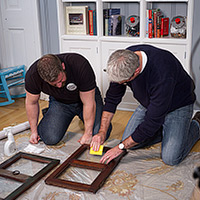 Enhancing a media cabinet
Dave and Jaclyn had found a great cabinet for their stereo and Internet hardware. Just one problem: the glass doors didn't do much to disguise all the tech gadgets sitting inside it. We used frosting film to help obscure the hardware while permitting IR signals from remotes to pass through.